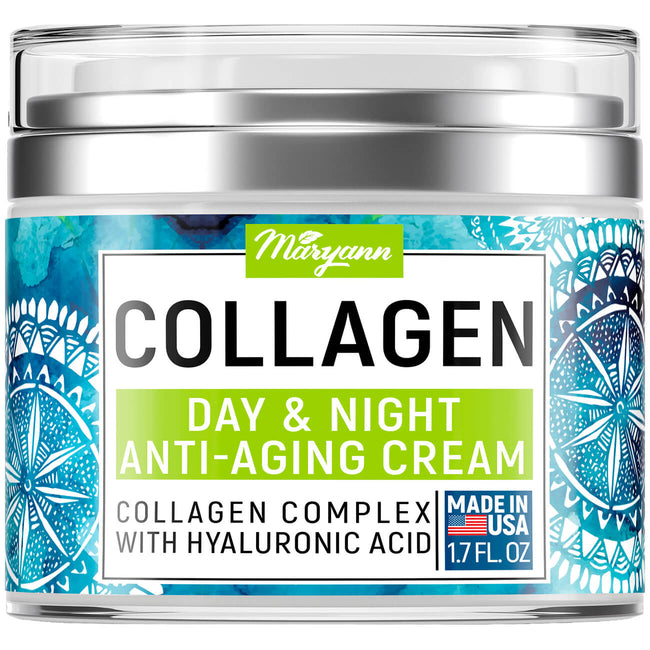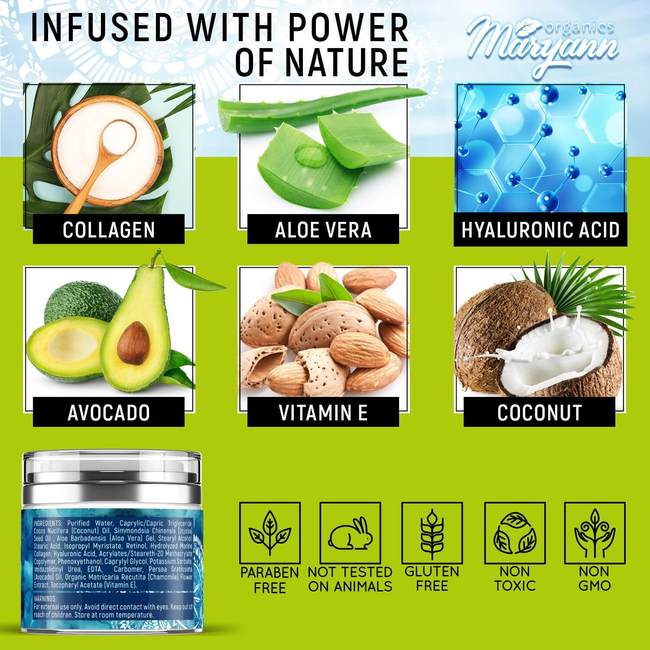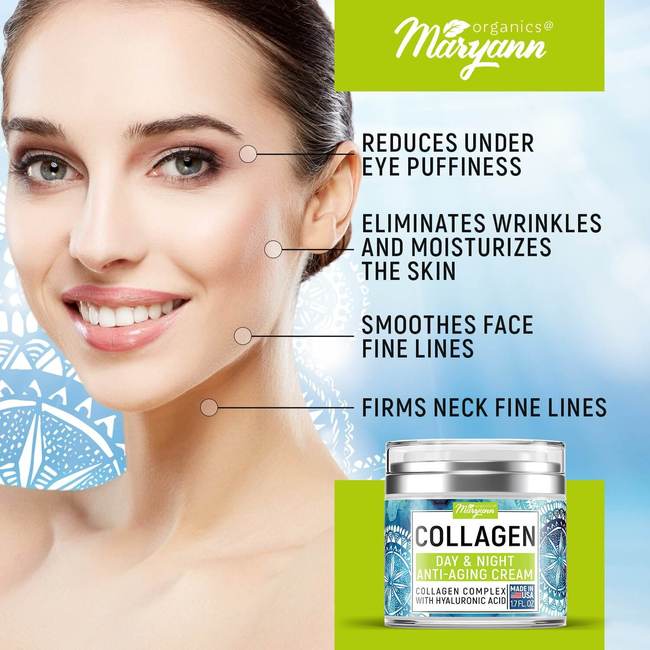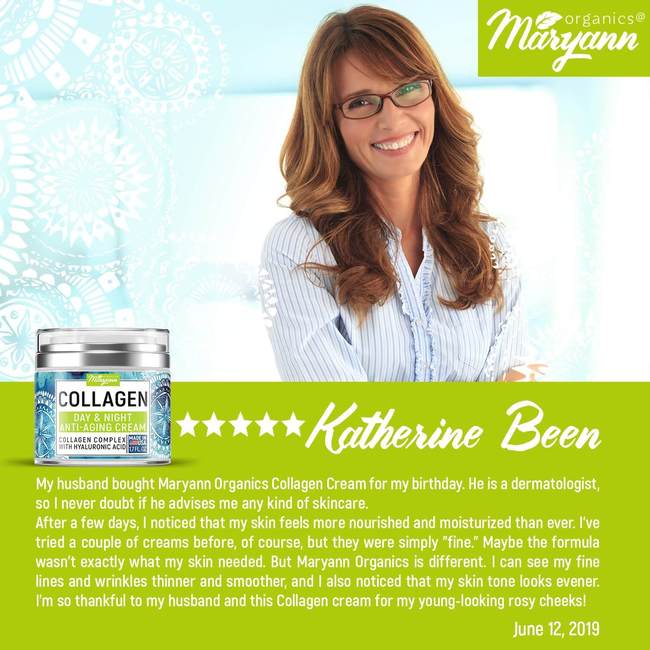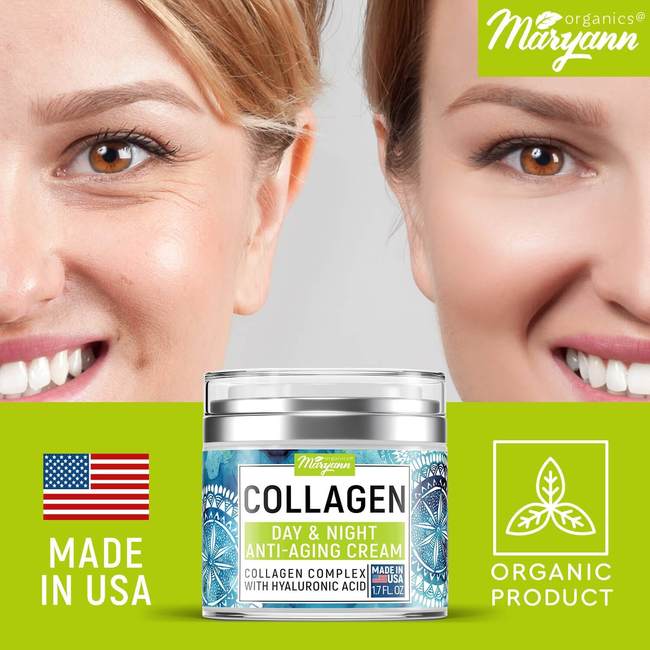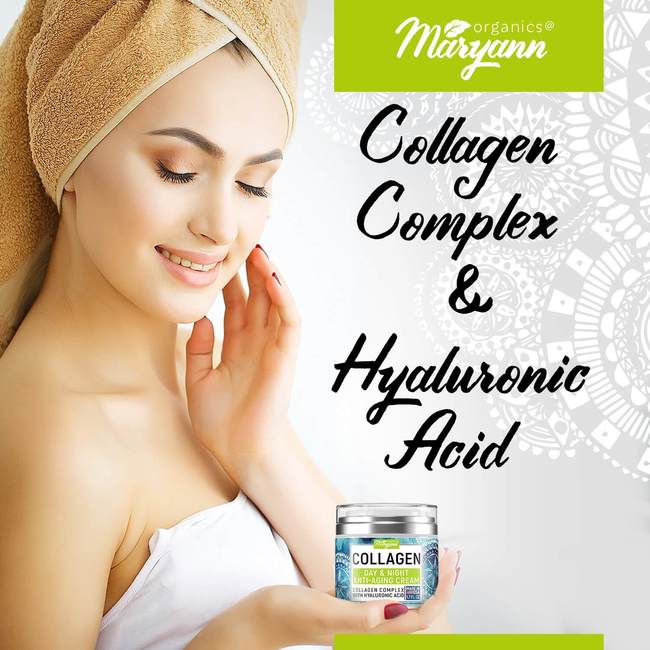 NOT TESTED ON ANIMALS
Your beauty without bunnies

GLUTEN FREE
Each ingredient is pure & grown without feedings

NON GMO
All ingredients are stand for Non-GMO policy

NON TOXIC
Safe for all skin types
Collagen Face Cream
The collagen face cream is an essential part of any skincare regime today. Daily life can take its toll on your skin, especially the face, which is exposed to harsh UV rays and the damaging cold throughout the year. However, with collagen cream for the face, you can help soothe those signs of aging and enjoy a younger-looking complexion and firmer, tighter skin.
Easy to apply and scientifically proven to be effective for all skin types, collagen face cream moisturizes the skin, hydrating and renewing, smoothing the fine lines and wrinkles that can be a problem. Using natural ingredients, you can use this cream with confidence every day, knowing that the non-greasy formula works to soothe and protect your skin. With results visible in just some weeks and the easy-to-use cream taking just a couple of minutes to apply, this collagen-based product fits into your daily schedule and gets real results that everyone around you will notice.
Collagen anti-wrinkle day and night cream benefits
The all-natural formula in this collagen anti-wrinkle cream contains both collagen complex and hyaluronic acid, which not only offer deep hydration through the skin layers but also promote cell renewal, firming skin and boosting elasticity.
In addition, whether used as a collagen anti-wrinkle day cream or collagen night cream, it also promotes a healthier appearance, giving your complexion that radiant, youthful look that brightens every day.
With regular use, many users see results in just weeks, enjoying:
Reduced under-eye puffiness;
Healthier, hydrated skin;
Reduced fine lines and wrinkles for a smoother complexion;
Firmer jaw and neck skin to reduce sag.
Collagen Anti-Ageing Cream
Bringing a more youthful look to the face and neck is a combination of several benefits of this collagen firming cream. First, the deep hydration properties of the cream rejuvenate the skin, bringing back lost elasticity that can be an early sign of aging. This gives a firmer feel while eliminating fine lines and wrinkles for a smoother, younger appearance.
As elasticity returns, this helps with sag around the neck and chin, firming the skin, removing fine lines for a smoother, more youthful look. Finally, by providing hydration and nourishment to the skin, this collagen firming cream restores the shine and natural glow of healthy, younger skin.
HOW TO USE COLLAGEN FACE MOISTURIZER?
Suitable for use as both a collagen anti-wrinkle day cream and a collagen night cream, this light formula is easily absorbed into the skin and produces great results.
When used as a day cream, apply to clean skin with the fingers, using a circular motion to massage the collagen cream into the skin. It is quickly absorbed and leaves no greasy residue, you should always apply your collagen hyaluronic acid cream at least 15 minutes before you level home and expose your face to the sun's UV rays for the best protection.
To use as a night cream, simply incorporate the retinol collagen cream into your bedtime routine, applying it to clean, dry skin in the same way. Just massage with the fingers, it absorbs easily and quickly and will hydrate and nourish the skin while you sleep, giving your complexion a boost that you will enjoy every morning.
With impressive performance, all-natural, soothing ingredients and fast results in as little as weeks, you can enjoy a more youthful complexion and healthier skin in just a few minutes per day. Order your collagen cream for face and neck today and enjoy firmer, wrinkle and line-free skin and a youthful glow that makes you feel great.
Purified Water, Caprylic/Capric Triglyceride, Cocos Nucifera (Coconut) Oil, Simmondsia Chinensis (Jojoba) Seed Oil, Aloe Barbadensis (Aloe Vera) Gel, Stearyl Alcohol, Stearic Acid, Isopropyl Myristate, Retinol, Hydrolyzed Marine Collagen, Hyaluronic Acid, Acrylates/ Steareth-20 Methacrylate Copolymer, Phenoxyethanol, Caprylyl Glycol, Potassium Sorbate, Imidazolidinyl Urea, EDTA, Carbomer, Persea Gratissima (Avocado) Oil, Organic Matricaria Recutita (Chamomile) Flower Extract, Tocopheryl Acetate (Vitamin E).
Directions
Wash skin first. Apply a small amount of cream to affected areas. Message well into skin. Let dry before putting on clothing. Can be applied up to four times per day.
Is collagen cream good for face?

Yes, it is the perfect way to nourish and hydrate your facial skin, firming and rejuvenating for a wrinkle and line-free appearance. With its all-natural ingredients and easily absorbed, non-greasy formula, our collagen face moisturizer is simple to use and great for all day wear.

Can collagen cream cause acne?

No, our completely natural collagen cream formula contains no nasty chemicals or other contaminates that can lead to breakouts. It hydrates and nourishes the skin, healing and rejuvenating, promoting healthier skin overall for a clearer complexion.

Can collagen cream penetrate the skin?

Our collagen cream is easily and quickly absorbed, providing all the nutrients and hydration your skin needs to feel and look healthier and younger. Promoting new growth and additional collagen production, it helps protect and nurture your skin day and night.

When to use collagen cream?

Our cream can be used as a night cream to hydrate and rejuvenate your skin while you sleep, and works equally well as a day cream, protecting your face from harsh UV rays and free radicals that constantly attack your delicate complexion. For best results, use night and day for continual all-round protection and nourishment for the best skincare possible.

Is collagen cream vegan?

While research has pointed out the many downsides and benefits of collagen supplement – and for the folks who are beauty conscious, collagen isn't vegan. Collagen is an essential protein component that exists naturally in skin, bones, hair, and ligaments. It's also found in most animal sources like fish and beef. However, most collagen products contain a blend of natural ingredients such as plant extracts that enhance skin tone minus the side effects.

Can collagen cream be absorbed through the skin?

Collagen contains amino acids that get absorbed in the bloodstream, but doesn't penetrate the skin. It stays on top of the skin and can be easily washed off. If collagen had the ability to penetrate the skin, you would apply your favorite collagen cream and have a thicker skin instantly. Unfortunately, skin care doesn't work that way. That's why dermatologists recommend the use of products that support collagen production such as vitamin C and retinol.

What's collagen cream used for?

Collagen products claim to help enhance skin elasticity, increase blood flow, and reduce wrinkles and other signs of aging. Collagen is a vital component in the body that keeps sagging at bay, giving you that healthy, youthful look. While many people use collagen products for skin care, over application can damage the skin. So, follow the application instructions and slowly increase the frequency of use, and monitor how it interacts with your skin.

How does collagen cream work?

Since collagen is a large molecule, it doesn't penetrate the surface of the skin when applied. But even if the collagen cannot penetrate the skin, there are specific ingredients in collagen cream that are absorbed into the skin. For example, Vitamin A or retinol found in collagen cream works to produce certain enzymes in your skin that stimulate collagen production. As a result, collagen production enhances skin texture and eliminates signs of aging.

Can collagen cream help with cellulite?

A recent study on collagen cream and hyaluronic supplements showed promising results where participants reported a significant reduction in cellulite after applying collagen cream. They also experienced an improved skin thickness and elasticity minus the side effects. That said, applying supplementary collagen might repair damaged skin as it boosts metabolism in the dermal cells. But more research is needed in this area to ascertain whether collagen cream can help to improve skin health.

Can you use collagen cream when pregnant?

Collagen cream contains Vitamin A derivatives – common in most anti-aging treatments. Products that contain retinoids are usually linked to birth defects and hence should be avoided when pregnant and breastfeeding. It's always advisable to consult a doctor before you start taking the supplement, especially if you have sensitive skin. Or alternatively, you can use the cream in small amounts as it supports skin elasticity and eliminates symptoms of aging such as wrinkle and fine lines.

Can I use collagen cream while breastfeeding?

Nutrition is very important in strengthening the bones as it supports bone retention during pregnancy. Research shows that collagen cream contains essential properties that help to strengthen the bones and stimulate calcium production and bone-forming cells – all the vital processes when breastfeeding. So, a high dose of biotin like 25000mcg is safe for use during breastfeeding and hence considered safe. Consult a doctor to help you determine the safe amount of collagen to use while breastfeeding.

Will collagen cream help acne scars?

If your skin has acne breakouts, collagen cream can help to heal skin wounds faster. In fact, collagen plays an essential role in enhancing the function of the immune system, which helps to heal wounds faster and eliminate the scars once and for all. So, collagen cream helps to prevent the build-up of scars but should be applied sparingly to avoid skin irritation. As a suggestion, you can gradually increase the frequency of application and monitor how the cream reacts with your skin.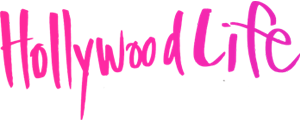 «While many collagen creams and serums can get pretty pricey, we found an unbeatable deal for you!»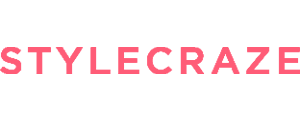 «The moisturizer has a cruelty-free formula and can be used as a blemish cream or as a day cream.»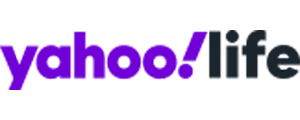 «It's packed with top-notch ingredients to nourish your skin, address a double chin and tighten pretty much any area — and it was formulated with the help of dermatologists.»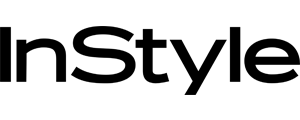 «The affordable product is "all you need" in your regimen, with many agreeing it has "restored their youth" better than expensive moisturizers»

«The combination has shoppers writing that it's the best face cream they've ever used»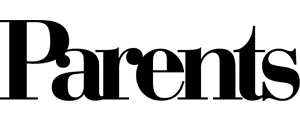 «Moisturizers beloved by derms and skincare aficionados (even Kylie Jenner)»