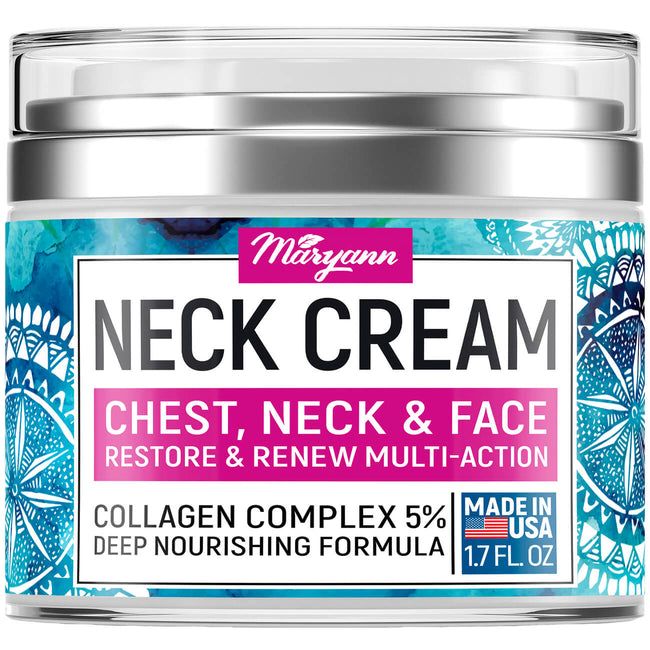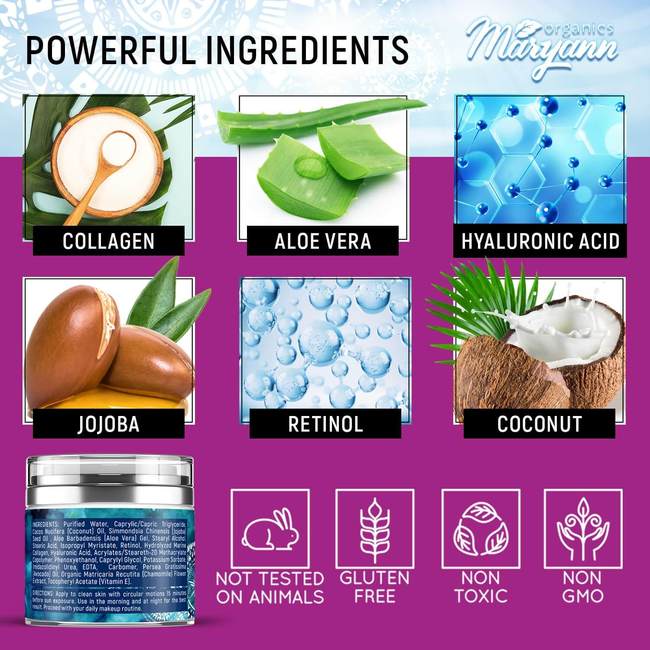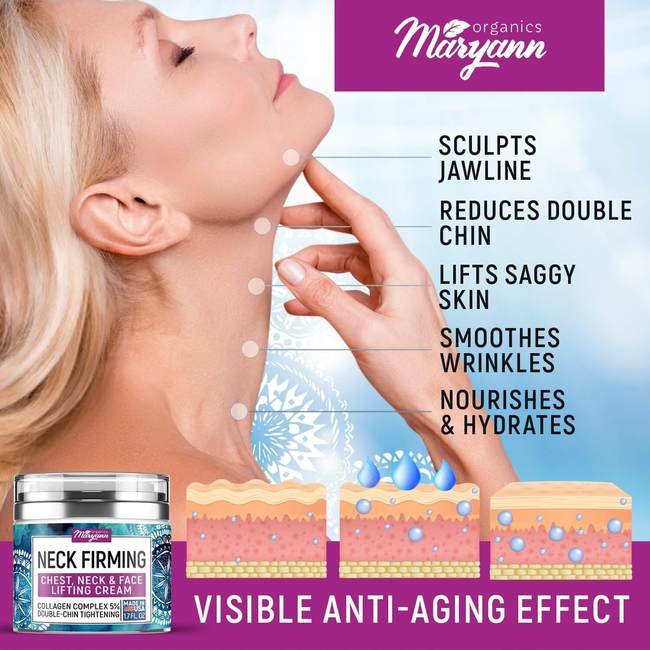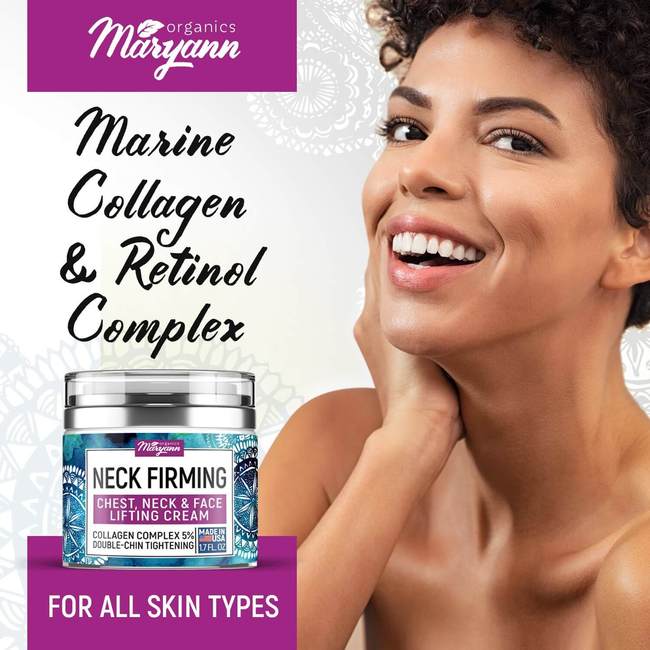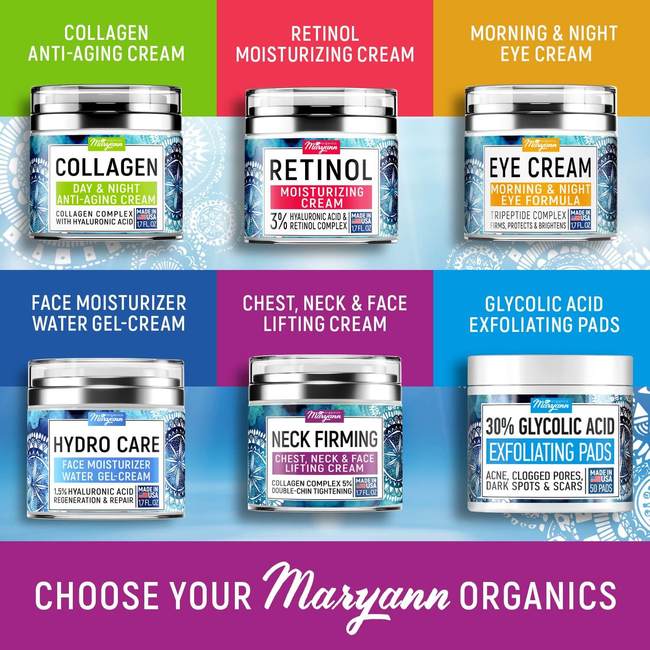 NOT TESTED ON ANIMALS
Your beauty without bunnies

GLUTEN FREE
Each ingredient is pure & grown without feedings

NON GMO
All ingredients are stand for Non-GMO policy

NON TOXIC
Safe for all skin types
Neck Cream
The neck cream provides the nutrients and hydration that reduce the signs of aging such as fine lines, wrinkles and sag. Where aging skin loses its elasticity, it causes wrinkles and sagging of the neck and jawline. However, with neck firming cream you can fight back against time, developing a smoother neck for a more youthful look. A firm, smooth neck looks great and feels great too, making you look younger and healthier.
Maryann's cream does this by hydrating and nourishing the skin while promoting the increased production of collagen, which naturally firms the skin, restoring skin elasticity and smoothing wrinkles and fine lines. From this neck firming cream, the tighter, firmer skin naturally smoothes wrinkles and fine lines, while resisting sag across the neck and at the jawline. This in turn defines the face and restores your best profile, giving the complexion a lift and reducing the signs of aging.
Neck Tightening Cream Benefits
With an all-natural formula designed to promote a healthier, vibrant complexion, this skin tightening cream for the neck has a firming and lifting effect for the neck and jawline. Using natural nourishing oils and retinol to promote collagen production within your skin, the face tightening cream reduces fine lines and wrinkles by smoothing the skin, while the added elasticity and firmness also combat sagging in the neck and jawline to promote a tighter, sag-free look.
The skin tightening cream available today, it is easy to apply and delivers fast results, with many users seeing a difference in just weeks, enjoying all these benefits:
Sculpted Jawline
Lifts Sagging Skin
Combats Double Chins
Smooths Wrinkles
Nourishes and Hydrates the Skin.
Decolletage Cream
Many women feel self-conscious wearing beautiful low-cut dresses as they age, but with this neck and chest firming cream, you can reduce the effects of aging and feel confident wherever you go. Feel great in your favorite clothes and enjoy the tight, firm skin of your younger days as the decolletage cream combats signs of aging and restores your skin elasticity and smooth finish. By hydrating and nourishing the skin and promoting collagen production, you enjoy naturally smoother skin that looks and feels fabulous.
From the all-natural formula to the fast results, the neck and chest firming cream help restore your skin to the healthy, firm and tight look you love.
Jowl Tightening Cream
One of the ways that the neck area can show the most signs of aging is as skin loses its elasticity it begins to sag. That shows on the neck itself, but especially around the chin and jawline. As the skin sags, it causes this area to lose definition, but with jaw tightening cream this can be avoided. Hydrating and nourishing the skin, providing the nutrients for healthier functionality and collagen production, the cream uses its all-natural ingredients to provide everything your skin needs to restore the smooth, taught definition you want.
The result is naturally younger-looking skin that retains the sharper jawline profile you want, reducing fine lines and combatting sag by adding elasticity and firmness, alongside a natural glow that makes you feel as good as you look.
Skin Firming Cream
The proven benefits of this firming cream for loose skin offer tighter, younger-looking skin for the chest, neck and jawline, and with results visible in as little as weeks, it's no wonder so many are trying it. The good news is that it is also incredibly easy to use too, firming cream can be used both night and day for continuous protection against the harsh sunlight and weather we expose our skin to on a daily basis. Simply massage into the neck area using circular motions until absorbed, it really is that easy. Ensure this is done around 15 minutes before leaving home and exposing your skin to UV rays in the morning, and also incorporate it into your bedtime routine at night.
With that done, your face firming cream will make a difference quickly, all for just a few minutes a day. Reducing sag, tightening the jawline, smoothing fine lines and wrinkles and hydrating the skin for a healthier glow, the neck cream can really transform your look. Order yours today and in just weeks you can see the visible results for yourself.
The main objective of this neck-firming cream is to give you that elusive youthful-looking and sculpted jawline within the shortest time frame possible. To make this possible, it is important to follow the listed directions to the letter and complement it with healthy lifestyle habits such as exercise regularly, staying hydrated and getting ample sleep. That being said, it is advisable to consult your dermatologist before starting to use this neck firming serum if you have sensitive skin or are generally prone to skin allergies, just to make sure that it is safe enough for you.
Application of the neck-firming cream should be pretty much straightforward - apply an ample amount of cream on the upper neck region just below the jaw area in firm circular motions mimicking a masseuse's repetitive strokes.
You should do this habitually; every morning before stepping out and at night before bed for best results.
As expected, ensure that you rinse your upper neck thoroughly before applying the cream to reduce chances of skin clogging up, particularly when you are using it after a hectic day outdoors.
Purified Water, Caprylic / Capric Triglyceride, Cocos Nucifera (Coconut) Oil, Simmondsia Chinensis (Jojoba) Seed Oil, Aloe Barbadensis (Aloe Vera) Gel, Stearyl Alcohol, Stearic Acid, Isopropyl Myristate, Retinol, Hydrolyzed Marine Collagen, Hyaluronic Acid, Acrylates/ Steareth-20 Methacrylate Copolymer, Phenoxyethanol, Caprylyl Glycol, Potassium Sorbate, Imidazolidinyl Urea, EDTA, Carbomer, Persea Gratissima (Avocado) Oil, Organic Matricaria Recutita (Chamomile) Flower Extract, Tocopheryl Acetate (Vitamin E).
Why neck cream is necessary?

Less collagen and fatty tissue along the neck makes it more vulnerable to sagging skin and excessive dryness. Therefore, applying neck cream can help to moisturize and nourish the area around the eyes. Dermatologists recommend the use of any type of moisturizer that contains the right blend of ingredients. But since the neck lacks the vital sebaceous glands, neck moisturizers work efficiently to moisturize the neck. As a suggestion, you should look for neck-specific creams that stimulate collagen and elastin production.

Does neck firming cream work?

Yes! In fact, our unique formula is made from the very best ingredients available right here in the USA and has helped women all over the country regain the younger look they desire. Our users report visible results in as little as three weeks, so buy our neck cream with confidence.

Сan neck cream be used on the face?

Yes, our neck firming cream is made from all-natural, quality ingredients that sooth, hydrate and nourish the skin. It smooths out wrinkles and fine lines as well as reducing sag, and works just as well on the face as it does the neck and chest area.

Can neck cream affect thyroid?

Hypothyroidism is a common condition that often causes skin disorders and irritations, which can be embarrassing and uncomfortable. This condition causes coarse skin and decreased sweating, all the symptoms that worsen the symptoms of aging. The good news is that neck cream can help to manage these undesirable signs of aging. So, it's recommended to apply neck cream to manage thyroid. Remember to apply the cream correctly as instructed to avoid skin irritation.

How to apply neck cream?

It's fairly simple to apply neck cream. Simply smear it on your hand and apply evenly on your neck in a slow motion. Drain the neck cream to stimulate proper circulation, which helps keep your neck young and firm. Repeat this process daily in the morning and before bed. Remember to apply the neck cream on damp skin. This is important because when the face dries off, the cream won't work as intended. Neck cream works better as it locks in moisture when you apply it on damp skin.

How does neck firming cream work?

Neck firming creams are designed to work on delicate skin as they help to keep the neck smoother, youthful, and tighter. Additionally, neck cream works to delay the appearance of fine lines and dark spots. In fact, long-term use is recommended for delicate skin as it keeps your neck firmer. So, for anyone looking for an effective skin care routine, neck creams come in handy. That said, find a good neck cream with a good blend of ingredients that won't cause skin irritation.

What neck cream do celebrities use?

Most young people often forget the important rule of skin care and that's to moisturize the neck and chest area. In addition to moisturizing the skin under the eyes, the neck is always the first place that exhibits signs of aging. Whether you want to eliminate fine lines or prevent wrinkles, applying neck cream will help you to wear those desirable low necklines with confidence. That's the reason why most celebrities use Maryann neck cream to tighten and firm the neck, eliminating all the undesirable symptoms of aging.

When to apply neck cream?

You shouldn't apply neck cream on the eyelids unless it's directed on the label. Generally, one is supposed to apply eye cream before sunscreen and daytime moisturizer. Since eye cream is lightweight, make-up and other heavier formulas should be applied last. Apply the neck cream in the morning before you wear your make-up. In fact, that's the reason why dermatologists recommend that you apply neck cream before bed. Avoid applying the cream near the eye as it can cause irritation and excessive itching.

Where can I buy neck firming cream?

You can buy this amazing neck cream right here on this site through our secure system with fast delivery. Just click the order button now, choose how many jars you want, and it can be on its way to you before you know it.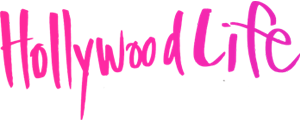 «While many collagen creams and serums can get pretty pricey, we found an unbeatable deal for you!»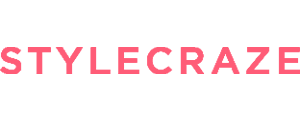 «The moisturizer has a cruelty-free formula and can be used as a blemish cream or as a day cream.»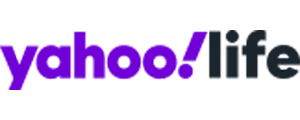 «It's packed with top-notch ingredients to nourish your skin, address a double chin and tighten pretty much any area — and it was formulated with the help of dermatologists.»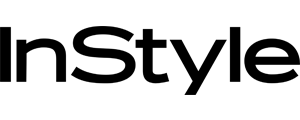 «The affordable product is "all you need" in your regimen, with many agreeing it has "restored their youth" better than expensive moisturizers»

«The combination has shoppers writing that it's the best face cream they've ever used»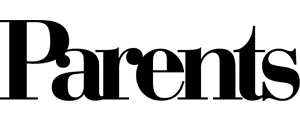 «Moisturizers beloved by derms and skincare aficionados (even Kylie Jenner)»