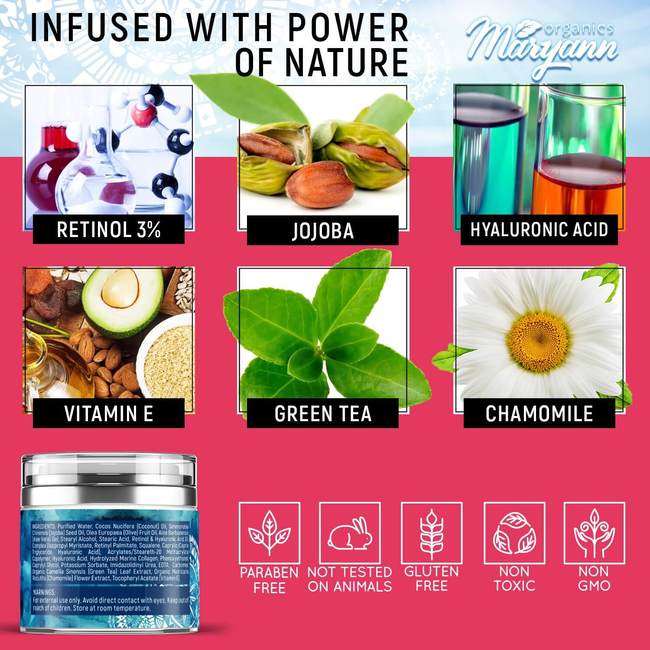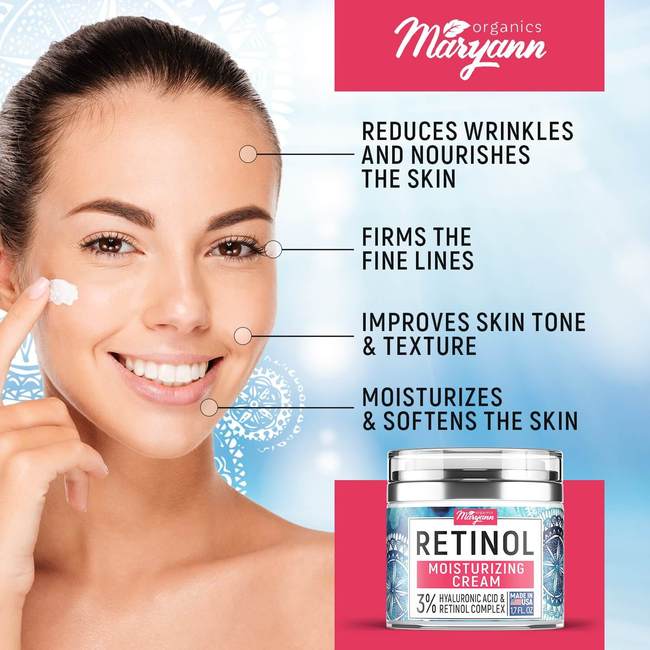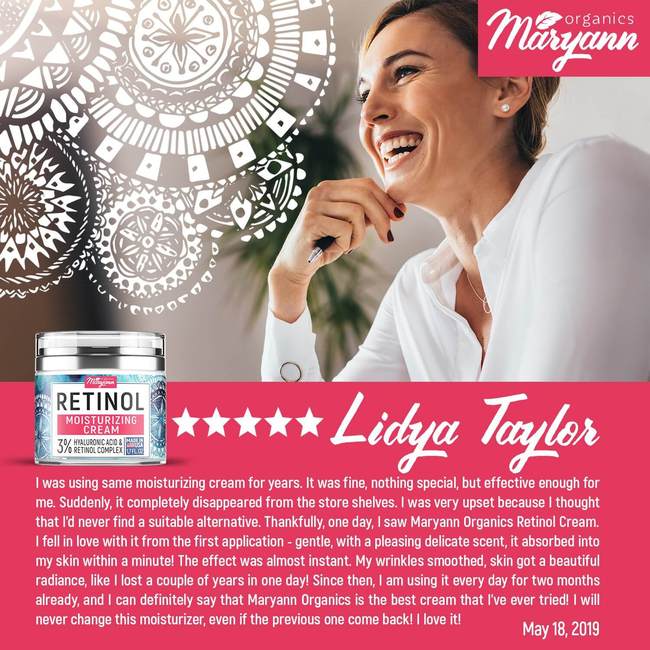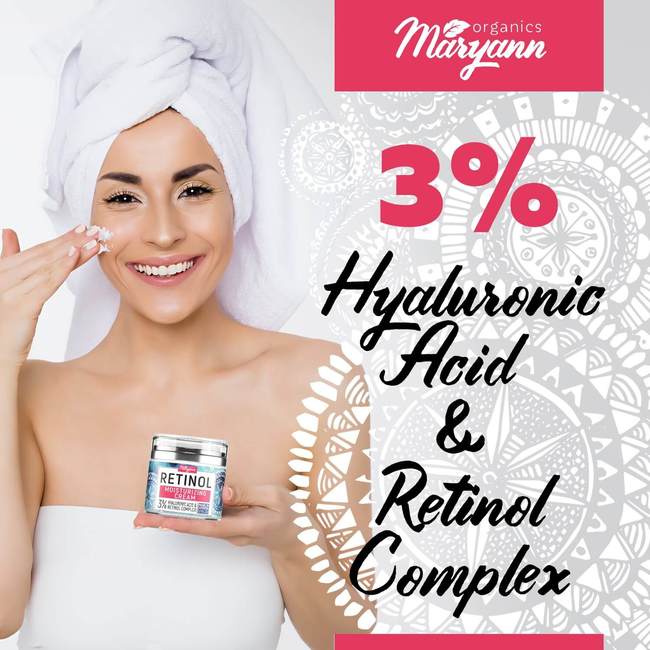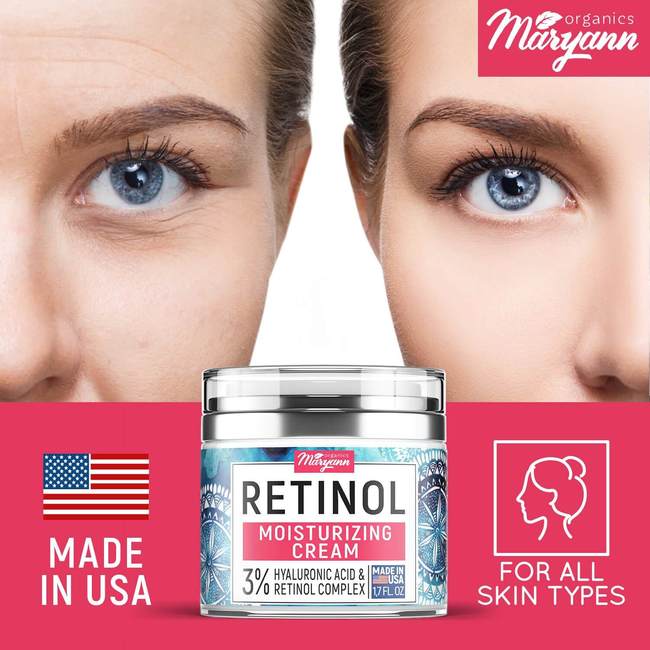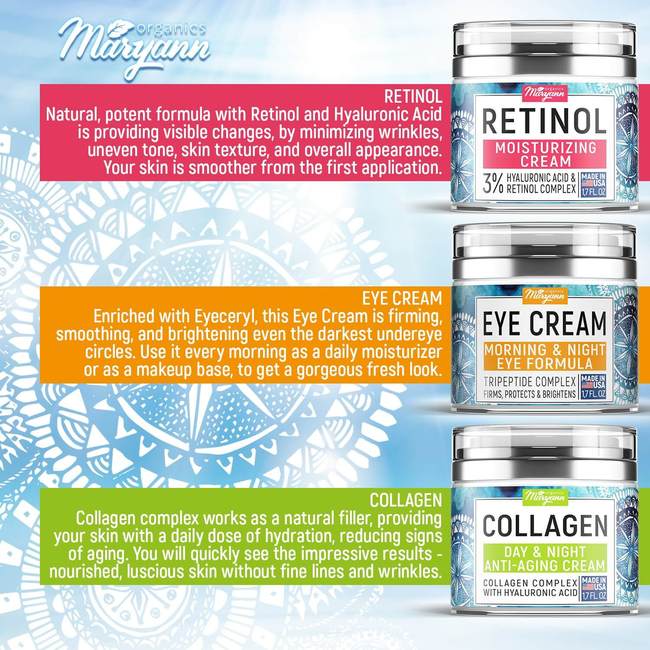 NOT TESTED ON ANIMALS
Your beauty without bunnies

GLUTEN FREE
Each ingredient is pure & grown without feedings

NON GMO
All ingredients are stand for Non-GMO policy

NON TOXIC
Safe for all skin types
As the name suggests, Maryann Organics retinol cream employs retinol - a derivative of vitamin A - to boost your daily grooming program and take it to the next level. Unlike your conventional rubs and lotions, this property has the desired after-effect of solving all your cosmetic woes; right from puffy eyes to premature wrinkles to breakouts or even hyper-pigmentation. What's more, this anti-wrinkle face lotion is also loaded with Hyaluronic acid that keeps the face looking youthful, refreshed and revitalized all day long, every day of the week. In other words, it's just what the doctor ordered!
It is the Most Retinol Cream You will Come Across Today!
You see, contrary to what you have to settle for at this price point, this advanced anti-aging balm packs an array of handpicked ingredients in its formulae. This includes the likes of Jojoba Oil, Shea Butter, Green Tea, Vitamin E, Aloe, and Hyaluronic Acid - all of which are designed to give you that elusive sheen of a well-moisturized face. You no longer have to struggle to strike a balance between hydration and appearing sweaty.
That aside, it can also help you mask those disconcerting tell-tale signs of aging like wrinkles, puffy eyes, rough texture, loss of elasticity, etc. We know how much time you spend in front of the mirror wishing you could turn back the hands of time; now this does not have the case anymore.
Moreover, this particular retinol lotion does all this good work of making you look decades younger while still nourishing and revitalizing the epidermis to keep those annoying zits and acne at bay. And this is not something that can be said of most ordinary make-ups and salves that promise the allure of youth but end up delivering fire and brimstone.
That said, using this lotion can do a lot to enhance the texture and appearance of a dry face, in case you do suffer from a shriveled-up looking epidermis. You just have to apply the lotion evenly on your face with circular motions and head out. The best part of this is that you will still be getting the much-needed bonus of extra UV damage protection from the sun's harsh rays by incorporating this cream into your skincare regimen.
When the Benefits of the Wrinkle Cream Come to Life, this is What you can Expect
Our special Wrinkle Moisturizer is recommended for anyone who understands the value of a healthy-looking countenance and is dedicated to achieving natural handsomeness. This anti-wrinkle lotion for women stays ahead of the pack by engaging a special formulation that is now known for the following gains:
Rapid results you can trust – Our wrinkle cream for women is potent enough and is also sufficiently proven to enhance elasticity under the eye area. Packed with Avocado Oil and Marine Collagen, the lotion is quite perfect for dry skin as it has a unique way of blending an otherwise desiccated or scorched-looking face to give a healthy wholesome look. And isn't this the holy grail of any comprehensive skincare routine?
Effectiveness & comfort – With a non-greasy texture, our anti-wrinkle lotion is quite gentle and easy on your face; to the extent of giving you a characteristic soothing sensation whenever you apply it. But more importantly, the rub contains no colors or irritating fragrances and suits all skin types. So, no side effects here - none at all.
Anti-aging Cream
Our age-defying face lotion contains Hyaluronic Acid that supports rapid cell renewal, boosting epidermal radiance and elasticity. All the ingredients work to keep aging at a distance, resulting in a youthful-looking appearance.
While also helping you look like you are barely out of your teens, the liniment is also working overtime behind the scenes to hydrate your cutis, smoothen out those wrinkles and straighten fine/laughing lines. If you are wondering how; it simply repairs and nourishes the epidermis to restore water balance in the skin.
It's not just a regular or standard moisturizer – this face cream for women offers deep epidermal hydration that you can trust. Furthermore, the lotion is organic and gluten-free! We would recommend that you apply the balm habitually to get desirable results.
Retinol Eye Cream
This retinol eye emollient is specially formulated to work on all skin types, and even the delicate and sensitive ones. Made with natural ingredients, it is a safe grooming additive that is guaranteed not to harm the appearance of your face even when applied habitually. Also, the good thing is that the Eye Cream is fast-acting enough that you may begin seeing its award-winning properties even before the end of this month.
No multiple treatments needed whatsoever – just apply the firming face cream in the morning and before bed to enjoy a fresh and rejuvenated look. Loaded with collagen and Avocado oil, retinal wrinkle eye rub keeps the epidermal layer under the eye properly hydrated. It is the one ointment you can count on to finally bid goodbye to fine lines and crow's feet.
You will also be pleased to know that the Eye Cream does not have any irritating colors and fragrances whatsoever. All the ingredients that are used to formulate this anti-aging cream pass through third-party evaluation to ensure they are safe for use.
Firming Face Cream
Infused with a blend of natural ingredients, our wrinkle cream is absorbed into the epidermis rapidly to eliminate fat cells, wrinkles and fine lines.
It also boosts collagen and increases cell longevity to help users enjoy a few rare anti-aging upshots such as enhanced skin elasticity and firmness. So, apply the anti-aging moisturizer regularly as instructed to enjoy its many health benefits. Made in the USA, our retinol-formulated firming balm is free from harmful side effects.
As mentioned earlier, our range of cosmetic solutions is completely safe for use as they contain natural ingredients. Notwithstanding, don't apply any of these lotions if you have an infection or epidermal disease. Better yet, these lotions aren't designed to diagnose or treat any skin condition. They only help to moisturize and give it that youthful glow.
Always read the directions, warnings, and labels before use. And if the application of the lotion results in an undesirable outcome, stop use immediately and seek medical help.
Just apply on the face evenly using circular motions. It's best to apply the moisturizer in the morning and before bed. And to achieve a healthy-looking glow free of blemish, apply the lotion consistently for at least three months. The salve might cause redness or itching on first use but these effects often vanish within minutes.
Purified Water, Cocus Nucifera (Coconut) Oil, Simmondsia Chinensis (Jojoba) Seed Oil, Olea Europaea (Olive) Fruit Oil, Aloe Barbadensis (Aloe Vera) Gel, Stearyl Alcohol, Stearic Acid, Retinol & Hyaluronic Acid 3% Complex (Isopropyl Myristate, Retinyl Palmitate, Squalene, Caprylic / Capric Triglyceride, Hyaluronic Acid), Acrylates / Steareth-20 Methacrylate Copolymer, Hyaluronic Acid, Hydrolyzed Marine Collagen, Phenoxyethanol, Caprylyl Glycol, Potassium Sorbate, Imidazolidinyl Urea, EDTA, Carbomer, Organic Camellia Sinensis (Green Tea) Leaf Extract, Organic Matricaria Recutita (Chamomile) Flower Extract, Tocopheryl Acetate (Vitamin E).
Directions
Apply to clean skin with circular motions 15 minutes before sun exposure. Use in the morning or at night for the best result. Proceed with your daily makeup routine.
Does retinol cream work?

Yes. Face Cream can help to reduce wrinkles and fine lines as they increase the production of collagen. They also hydrate the skin to improve texture and eliminate the common aging such as crow's feet and puffy eyes.

Is retinol cream safe?

Retinol forehead wrinkle cream contains a blend of natural ingredients and hence is safe for use. Even with regular use, you never have to worry about side effects. All the ingredients are evaluated by a third-party to guarantee safety and efficiency.

Is retinol cream good for acne?

When applied regularly on the skin, our anti-aging lotion helps to unclog the skin pores, allowing medicated gels and moisturizers to work efficiently. Retinol cream also minimizes acne breakouts and prevents dead skin cells from clogging the pores. So, this face for women can reduce the occurrence of acne scars as well?

Is retinol cream or serum better?

Most retinol serums often contain a high concentration of the active ingredient. On the other hand, they are lightweight and rarely have a greasy residue after application. So, serum is certainly a better alternative to retinol cream. However, it always comes down to personal preference.

Is retinol cream good for your skin?

Retinol salves work best for dry skin as it eliminates wrinkles and other signs of aging. It also increases blood vessels in your skin. Additional perks of applying anti-aging face cream include softening rough skin and fading unsightly age spots and skin blemish.

Is retinol cream a steroid?

Retinol salves work effectively to limit the development of skin cells among patients suffering from psoriasis. Often, our Face Cream is combined with medications that contain steroids to treat psoriasis. So, retinol-based moisturizers are not a steroid but they work alongside each other as far as skin care is concerned.

Can retinol cream burn your skin?

Despite having plenty of health benefits, even a quality face balm might still have undesirable side effects. Retinol irritation or retinal burn often happens when your face is sensitive to the potent ingredients. First time use can cause a flaky feeling or result in redness of the skin. But these undesirable side effects vanish within minutes.

Can retinol cream cause headaches?

Regular application of retinol emollient can cause severe irritation that causes burning sensation, peeling, erythema, pruritus, or dryness. Although rare, retinoid cream might also cause migraines, bone pain, joint pain, and back pain. So, reduce the frequency of use if you have sensitive skin.

When to use retinol cream?

Apply retinol twice a week and monitor how the skin reacts and then gradually increase the frequency of use. Another way of applying our moisturizers is by incorporating it into your night skincare routine. Remember that retinol makes the skin sensitive to exposure of excessive sunlight.

Retinol cream when pregnant?

Despite having low risk, expectant women should avoid all Vitamin A based skin lotions. But if you want to apply an anti-aging salve that contains retinol, then there's no need to worry about undesirable side effects. As a suggestion, consult a doctor before you buy retinol moisturizer cream to stay on the safe side.

Retinol cream when breastfeeding?

It's not easy to detect whether the face rub is transferred to the child during breastfeeding. So, while most skincare routines are safe, it's better to avoid them when breastfeeding. After all, prevention is better than cure.

Is retinol cream a moisturizer?

Retinol salves are typically loaded with Vitamin A – an invaluable ingredient that helps to address the common skin issues like wrinkles and fine lines. If you're looking to have a brighter and smoother skin, then retinol is the best anti-wrinkle cream for you. It works to hydrate and nourish the skin.

Can retinol cream cause itching?

As mentioned earlier, retinol rubs can cause itching on first use as it contains potent ingredients. Apply the salve twice a week and gradually increase the frequency of use to prevent excessive itching. But if you have a pre-existing skin condition, just avoid applying it.

Can retinol cream cause wrinkles?

They contain very active protein ingredients and when used excessively, it can cause dryness and irritation. It can dry out the skin and eventually make wrinkles more noticeable. So, limit your usage to prevent wrinkles and fine lines. Always follow the directions of usage at all times to keep aging at bay.

Which retinol cream is best for open pores?

While there are different lotions of good quality in the market, our products contain hyaluronic acid that helps to moisturize the skin.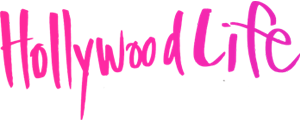 «While many collagen creams and serums can get pretty pricey, we found an unbeatable deal for you!»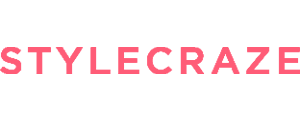 «The moisturizer has a cruelty-free formula and can be used as a blemish cream or as a day cream.»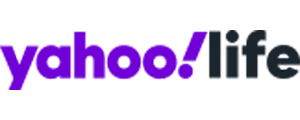 «It's packed with top-notch ingredients to nourish your skin, address a double chin and tighten pretty much any area — and it was formulated with the help of dermatologists.»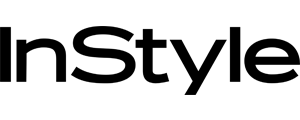 «The affordable product is "all you need" in your regimen, with many agreeing it has "restored their youth" better than expensive moisturizers»

«The combination has shoppers writing that it's the best face cream they've ever used»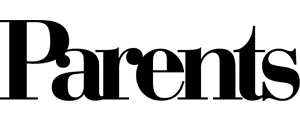 «Moisturizers beloved by derms and skincare aficionados (even Kylie Jenner)»