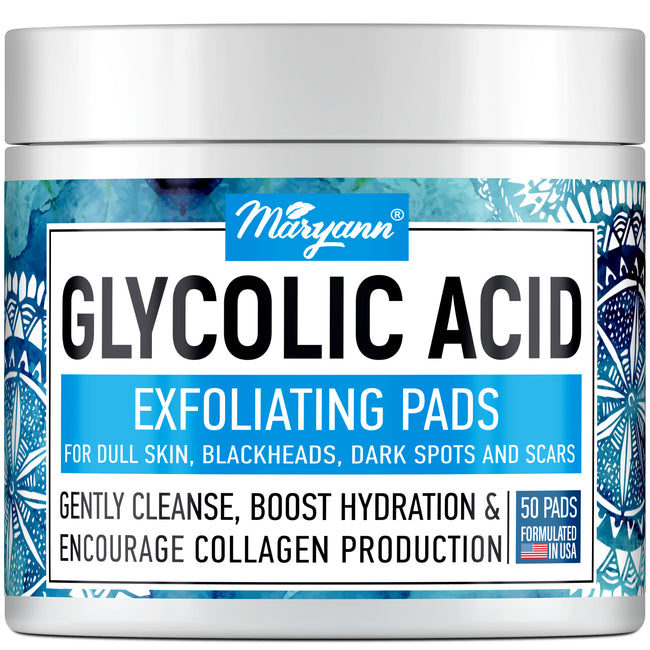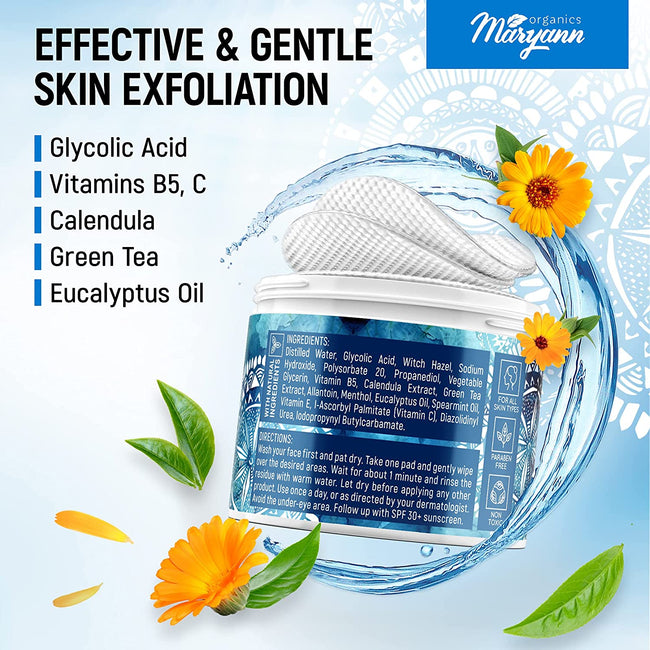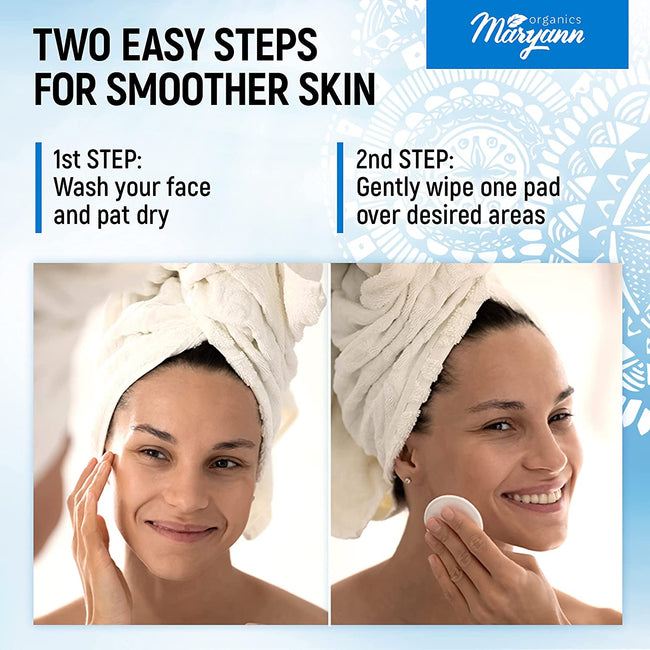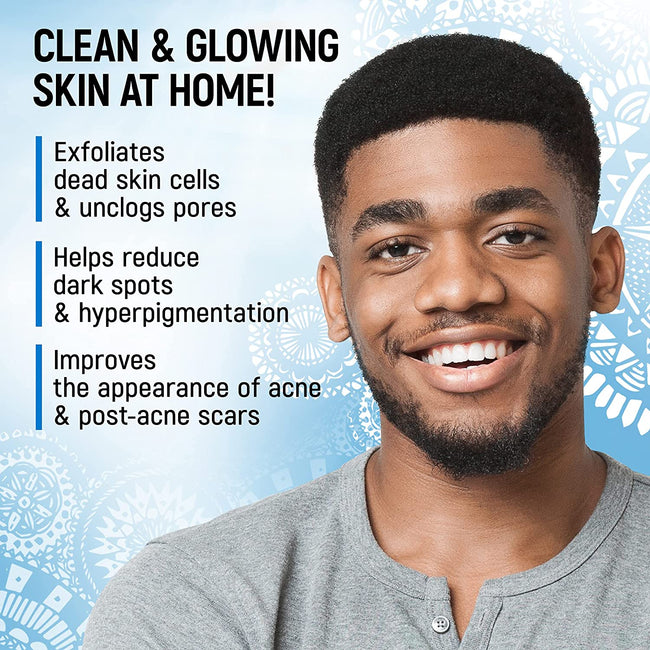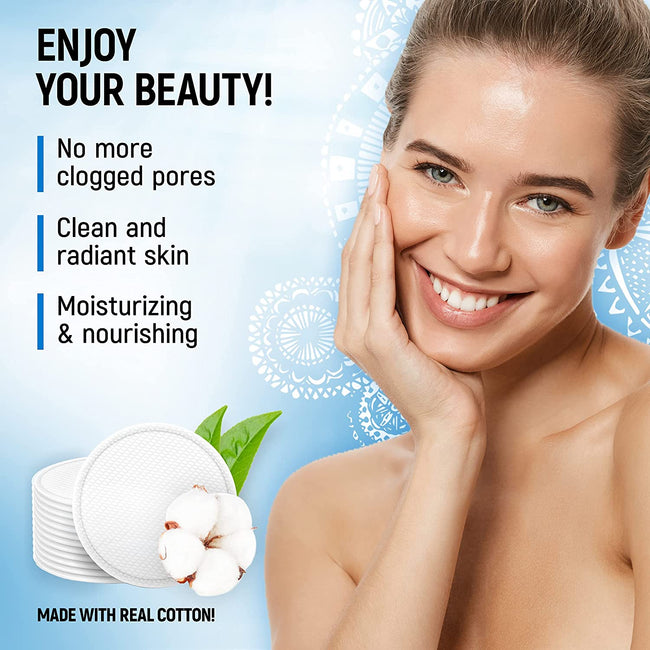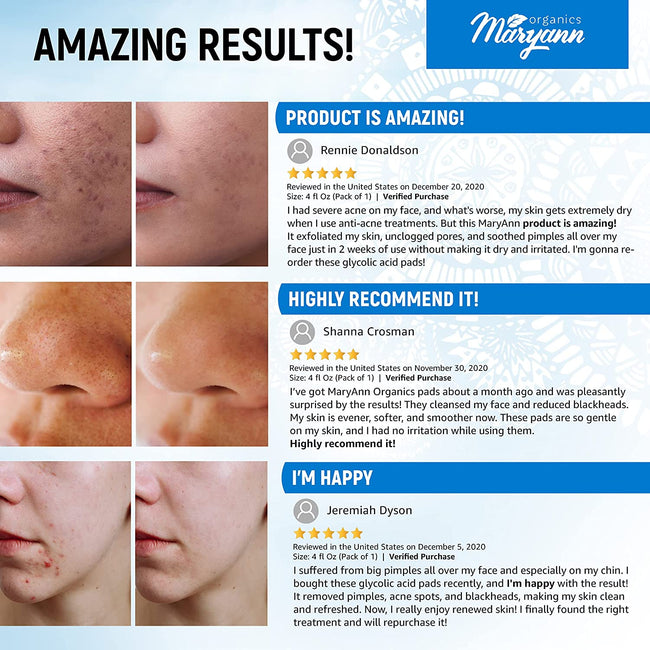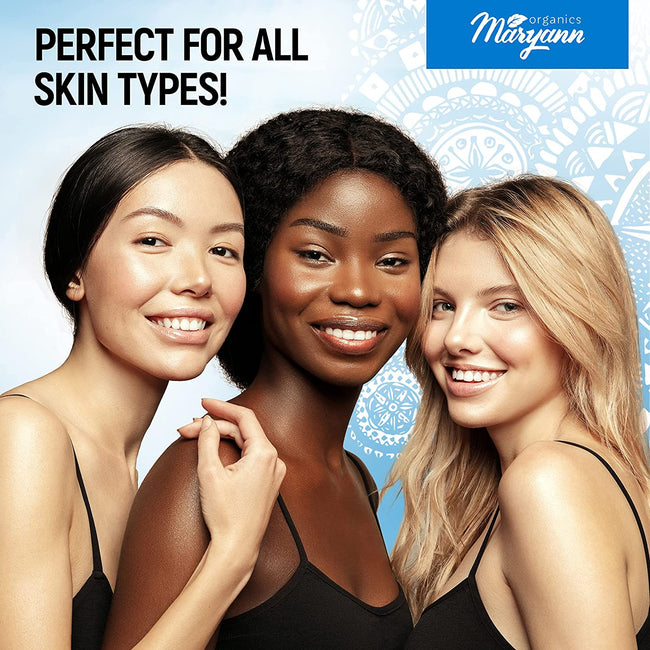 NOT TESTED ON ANIMALS
Your beauty without bunnies

GLUTEN FREE
Each ingredient is pure & grown without feedings

NON GMO
All ingredients are stand for Non-GMO policy

NON TOXIC
Safe for all skin types
As terrifying and scary as the words 'acid pads glycolic' may sound, face peel pads are in fact the easiest, quickest and, most importantly, pain-free way to get brighter-looking, smoother skin without having to go for a facial appointment. You don't, necessarily, even have to book a tweetup with your dermatologist to try this out or pay top dollar for a standalone exfoliating session. It's all hands-on and you can use the acid wipes at the comfort and privacy of your dressing room.
The benefits of glycolic treatment pads encompass a number of upsides which can include;
Evening complexion
Dark spot fading
Collagen building
Natural tone-enhancing
Exfoliation and the sloughing off of dead cells.
Glycolic Acid Face Pads Benefits
Thanks to potent resurfacing ingredients such as BHAs (Beta Hydroxy Acids), AHAs (Alpha Hydroxy Acids) and brightening agents like ascorbic acid (Vitamin C) and Vitamin B5, your face will have a newfound clarity and radiance in just but a few swipes. And with continued and consistent use of these glycolic face wipes, you can keep the hard-earned glow season-in, season-out, and all year round.
While many pads glycolic may look or feel the same, the truth is that they are not all created equal. You will need a well-developed formula packed with the right combination of acids to lift away and slough off dead cells while at the same time deep cleaning any clogged pores. What's more, the ideal glycolic wipes should trigger a speedy cell regeneration after all the heavy-duty exfoliation has been completed without irritating the underlying layers of the epidermis. Here's where Maryann's Organic pads glycolic peels really excel at. They are gentle enough to use almost every day while still being effective enough to be your trusted skincare companion throughout the year.
Here's a quick premise of the other numerous benefits that Maryann's Organics pads glycolic pack.
i. Gentle Exfoliating Pads for Face and Skin Resurfacing
These exfoliating peels are infused with an array of skin-enhancing vitamins and nutrients that are designed to remove grime and dirt from the face with just a single swipe. And by lifting off the dead cells they inevitably stimulate the underlying epidermis to regenerate and proliferate new ones to replace the old ones. And if this happens consistently, it can progressively cover up old acne scars while reducing the overall appearance of wrinkles and fine lines.
Being one of the few organic face exfoliator pads in the market, Maryanne's pads glycolic exfoliating peels are tailored in the backdrop of natural improvement of one's texture and complexion without predisposing them to the usual side effects of other invasive resurfacing methods such as micro-needling and microdermabrasion. You don't even need prior experience or special training to use these pads safely or as is required.
Besides, glycolic which is actually derived from sugarcane and the chief active ingredient in these pads is humectant too. In other words, it has the natural biochemical ability to draw moisture from the air to itself. This implies that the use of these exfoliating face pads will also result in the external hydration of the newly rejuvenated cells, in addition to keeping fine lines and wrinkles at bay. This unique way of replenishing moisture lost by the cells with more from the air contributes immensely to keeping one's face plump and externally hydrated especially if you live in a place with notoriously low humidity.
The fact that AHA in this face exfoliator pad improves the effective penetration of other related skincare agents is, nonetheless, what makes Maryann's Organic an excellent addition to your daily hygiene routine. You can bet that your other skincare products on your dressing table will pack a punch as soon as you start using Maryanne's face peel pads. In fact, this deeper penetration of other ingredients courtesy of AHAs action will lessen the time you need to reach your goals significantly.
ii. Tiny but Mighty Acne Pads That You Can Carry With You Anywhere
The ability of the combination of ingredients used in these acne face pads to give you smooth and visibly clear skin is unparalleled. For starters, glycolic, which represents the top active ingredient here, plays a superb role in removing dead tissue and unclogging blocked pores in the process. Speaking of which, AHA is keratolytic - which, in other words, means that it has an unmatched ability to disintegrate dead cells to pave way for open pores and unblocked sebaceous glands ducts. A combination of the two translates to few or no cases of acne breakouts, which will obviously lead to even fewer acne scars to worry about.
Besides, Maryann's Organic pads glycolic, unlike your standard acne treatment pads, employs a host of naturally-derived ingredients such as green tea, eucalyptus oil, and calendula to lessen the severity of an ongoing acne episode. Green tea, for example, has proven to be highly beneficial in stopping zits and pits at their tracks, something that goes a long way in aiding recovery. On the other hand, there is plenty of anecdotal evidence that confirms that chemical peels infused with eucalyptus oils are less aggravating to acne symptoms than those that are not. You have a better chance of not worsening your symptoms when using Maryanne's exfoliators compared to conventional ones.
iii. Our Cleansing Pads Do Not Strip the Skin of its Natural Oils and Lipids
One of the major complaints and concerns that most people have with regular face wash pads is that a majority of them are extremely aggressive in the way they attempt to remove grime and dirt from the surface. It is not, for instance, uncommon for standard face cleaning pads to strip the skin of its valuable lipids and oils in the process of shedding and lifting dead cells. This inadvertently exposes its soft underbelly to a myriad of extremities that could precipitate a bad case of acne in people with super sensitive skin. Ever wondered why some cleansing agents have a slight but persistent tingling effect after application? Now you know.
MaryAnn's Organics skin cleansing pads, however, avoid this quandary by tempering the aggressive and brassy nature of AHA with the well-timed modulation of calendula and eucalyptus oil. This means that even if our cleansing pads for face are highly efficient in melting away dead cells, they will not strip off essential oils and lipids from your face while at it. Remember that this is the same bouncy barrier that seals in hydration while keeping all of the other bad stuff such as pollutants out. You need this lipid barrier and we will help you protect it while it gets rid of grime and dead cells.
Using Maryann's Pads Glycolic is a two-step process and it's as easy as it sounds.
First, wash your face thoroughly with ample warm water to get rid of any grime, dirt and oil that may be sitting on your external-most skin surface. This step is also important as it increases the penetration of AHA molecules from the chemical peels to the underlying which is necessary for the delivery of vital nutrients and moisture. Pat it dry with a soft cloth before proceeding to the next step.
Secondly, wipe the face with one pad gently but firmly; taking care not to vigorously rub it in needlessly. If done correctly and consistently, it will be critical in fading dark spots, reducing acne scars, targeting hyperpigmentation, unclogging skin pores, eliminating dryness, unevenness and other imperfections that are responsible for premature aging and fine lines.
The First Impression Matters A Lot - Invest in a Skin Care Regimen that You Can Trust
We live in a world that , now more than ever before, values external appearance and attractiveness. And as a reliable skin care brand that you come to love and trust, we wouldn't want you starting on the back foot or being needlessly disadvantaged. This is why we have put in a countless number of hours of research and development in creating a product that aids in preserving your skin's glorious youthfulness for as long as it is biologically possible.
It pays massive skin care dividends to buy Glycolic Acid Exfoliating Pads from us. It is no wonder that hundreds of customers who have tried our cotton acid pads can attest to our truly exceptional mastery of the art of cleansing the skin without aggravating the symptoms.
As much as the usefulness and potency of Maryann's Organic cleansing acne pads is unrivalled, they are not specifically intended to cure, treat or manage any particular dermatological or skincare condition. Besides, you may also want to check with your dermatologist and confirm the suitability and compatibility of your skin type with any new skin care aid that you are about to adopt for daily use - not just this one.
Make an effort to adhere as closely as possible to the recommended usage instructions and keep it away from the reach of small children.
As a standard practice, all of MaryAnn Organics skin care products are formulated in the USA using the finest, safest and most premium ingredients available. We don't hold back when it comes to developing, testing and verifying the efficiency or suitability of anything that we put in the market.
It is the same case with our elite line of pads glycolic cleansing peels which has so far demonstrated our unmatched intention and commitment to upholding excellent manufacturing and production standards. At the end of the day, our objective is to provide you with a reliable exfoliating companion that you take with you anywhere you go, regardless of the time, place or season.
The confidence that past customers have in our products can be traced back to the consistency in making sure that they are devoid of soy, GMO, artificial flavors, fragrances, animal products, fillers and gluten. This makes it the ideal skin care cleansing artillery for people of all backgrounds, skin types, lifestyles or religious beliefs.
How often should I use pads glycolics?

AHA cleansing pads should be used as often as you wash your skin, seeing that they are a complementary skin care practice. Therefore, depending on your lifestyle , routine and exercise regimen, this can be twice or thrice a day. Now, considering that most people often wash their face twice a day - just after getting up and before bed - it can be safe to assume that the peels can be used just as often, barring any special dermatological concern.

Can you use pads glycolic everyday?

To most people, using pads glycolics everyday is just safe but also necessary to fade dark age/sun spots and unplug blocked skin pores. And since you need that fresh-faced and attractive glow every time you step out of the house, we would go as far as recommending that you use the exfoliating peels just as often as you wash your face, whether it is after an intense exercise stint or just after waking up. The only time you should avoid using the cotton balls everyday is if your dermatologist has cautioned you against it or its use worsens your acne symptoms.

Do you wash off glycolic acid pads?

No, these are cleansing pads. And as the name suggests, they work to get rid of the grime, dirt and oil that is sitting a top of your skin. Besides, the correct way of using it is by wiping the face with the cotton balls after washing and patting it dry. It is, therefore, quite counteractive to wash off the acid peels later.

Do dermatologists recommend glycolic acid?

Indeed, dermatologists recommended glycolic for people who have very sensitive skin and cannot use more abrasive exfoliating compounds such as salicylic acid or benzoyl peroxide. It is not just milder than the two above but also quite effective in addressing fine lines for a 'acid chemical peel'. Overall, if your dermatologist wants to improve your skin texture and fade a few dark spots without necessarily aggravating your other prevailing acne symptoms, then they will most likely prescribe glycolic acid.

Which is better, retinol or glycolic?

There is no correct answer to this. You see, glycolic (in addition to other Alpha Hydroxy Acids) and retinol have completely different functions. While retinol is mainly suited in stimulating cell regeneration as well as the synthesis of elastin and collagen, glycolic is majorly suitable for cleansing purposes and removing debris from the skin. In other words, if you are looking to address and prevent wrinkles, fine lines and damage then retinol is your best bet. On the other hand, those who want to address oiliness, clogged pores and uneven texture will be best served with glycolic.

Do you moisturize after glycolic acid?

Yes, you can moisturize after application of glycolic acid peels, although it is not entirely necessary or mandatory. But if done, it will help lock in the much-needed moisture in the outermost layer thereby improving the already fantastic glow that you had earned from exfoliating using the acid peels.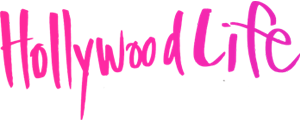 «While many collagen creams and serums can get pretty pricey, we found an unbeatable deal for you!»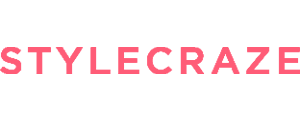 «The moisturizer has a cruelty-free formula and can be used as a blemish cream or as a day cream.»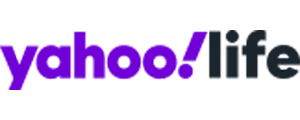 «It's packed with top-notch ingredients to nourish your skin, address a double chin and tighten pretty much any area — and it was formulated with the help of dermatologists.»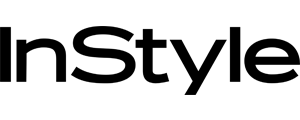 «The affordable product is "all you need" in your regimen, with many agreeing it has "restored their youth" better than expensive moisturizers»

«The combination has shoppers writing that it's the best face cream they've ever used»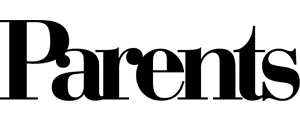 «Moisturizers beloved by derms and skincare aficionados (even Kylie Jenner)»